Dogs
Winners, Winners & More Winners!
by Carrie Boyko, CEB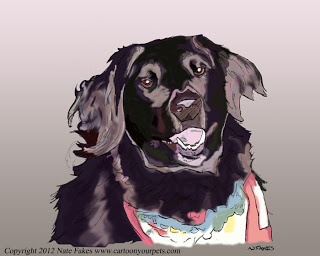 My Xena Preserved
for Eternity by Nate :)
Friday evenings are such fun at All Things Dog Blog. This time is set aside to announce winners of many of our giveaways, so it's rather like pet lover payday, only with surprise bonuses! Today I've got a bundle of goodies, so I'll be breaking the announcements up into two blog posts. Be sure to check the other one to make sure you haven't missed the winners' names.
Our artist's illustration by Nate Fakes of Cartoon Your Pets was a huge hit. So big, in fact, that Nate has offered a 20% discount through Sunday, October 14 for all orders from his site. Just mention "All Things Dog" and you'll get this discount, or you may ask Nate to donate it to the ASPCA on your behalf. Today's winners are Amy Beth M. and Nancy W. You'll be notified by my [email protected] account.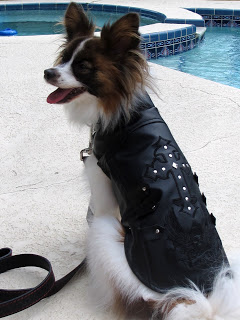 © AllThingsDogBlog.com
Ready to Rock, Oliver?
Our PetSmart giveaway of Bret Michaels designs are just in time for Biketoberfest. These biker and rocker looks are just too cool to stay here at my office, so our winners will be enjoying them for Halloween and beyond. Congratulations to
Jennifer H.
for winning the
leather leash
and also to Alicia M.
for getting a super cool leatherette vest with beautiful embroidery work. These pups are going to be looking cool for sure!
Once again, be sure to check out our other winners' post to see who else was lucky this week, and stop by our Giveaways Listing, always at the menu bar, to check out the other goodies up for grabs. Have a great weekend!







A sample .jpg of my dog, Xena, was provided for review of Nate Fake's work. I was not compensated to review it or to run these giveaways for Cartoon Your Pets or PetSmart. No purchase was required to win.
-
Barking Out #superdogpics Winners
by Carrie Boyko, CEB © Nate Fakes LIVE Illustration was a Big Hit!Yesterday, after the Monday holiday, the #SuperDogPics prizes were shipped, save the one remaining name who has not stepped forward. Today is the deadline for getting in touch and then...
-
Cartoon Your Pets Joins #superdogpics
by Carrie Boyko, CEB Nate's Illustration of MolimoA while back when I first met Nate Fakes, the artist behind Cartoon Your Pets, I reviewed his work and decided to offer a giveaway. One of my readers got her Chocolate Lab, Molimo, illustrated...
-
Petco Halloween Winners
by Carrie Boyko, CEB © AllThingsDogBlog.com Our Models: Scruffy and Oliver Ghosts and goblins, angels and Jack-o-Lanterns; it's time to get ready for Halloween. Lots of pet parents enjoy getting their pups into the swing of things, even if only...
-
Win A Cartoon Illustration Of Your Fido
by Carrie Boyko, CEB © Nate Fakes Meet WhitleyNate Fakes; remember that name. I'm starting to see it all over Facebook; he's getting around. Nate's work is such fun; did you see my review? Today I'm going to offer up a heartwarming...
-
Biketoberfest Celebration: Bret Michaels Giveaway By Petsmart
by Carrie Boyko, CEB © PetSmart© All Things Dog Blog Ready For Bike WeekIt's time for another fun dog Giveaway just in time for Halloween. Anyone like Bret Michaels? Well if you do and you don't already know, Bret Michaels has his own brand...
Dogs