Dogs
Pass me the 'dog book'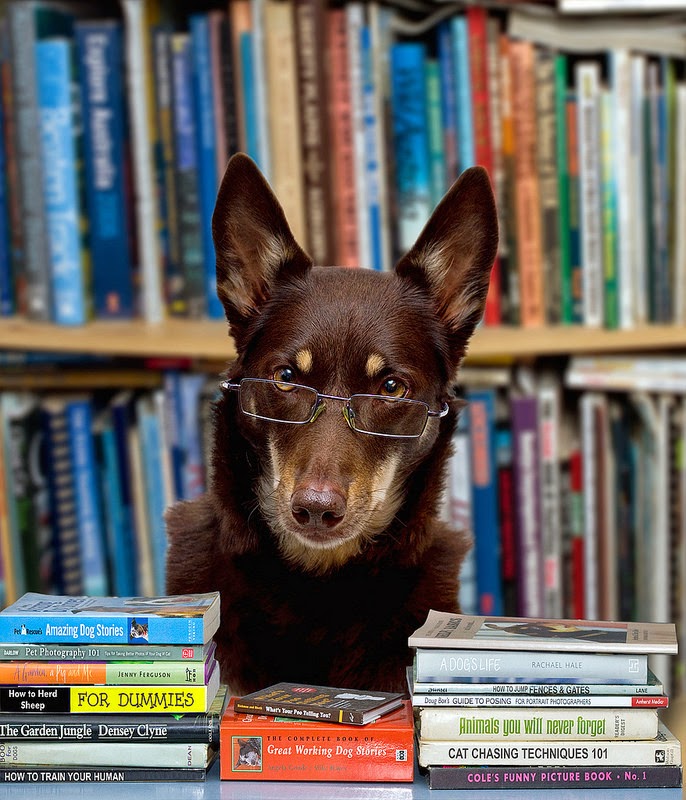 (Source)
Hi Mia!

So many books. Written about dogs. Most I see at the airport, memoirs of someone's 'very special relationship' with a 'very special' dog, another about dogs 'racing in the rain,' (seems like it would be a pretty short book, or would make a better YouTube video), and some even feature a dog as a private eye (many are fans of this one, see Patricia McConnell's review).

Sometimes while sitting in the living room I joke with my boyfriend, "Pass me the dog book." Maybe I find this WAY more funny than he does, but like you, I am surrounded by dog books! Right in front of me is The Domestic Dog (Serpell, ed), and to my right I can see Genetics and the Social Behavior of the Dog (Scott and Fuller). Beneath that is What the Dog Knows: The Science and Wonder of Working Dogs (Warren).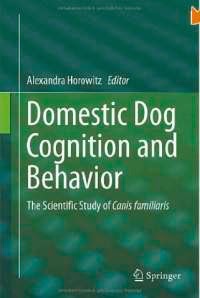 Now we'll all be surrounded by one more dog book, Domestic Dog Cognition and Behavior The Scientific Study of Canis familiaris! This one I am particularly biased towards because it is edited by Alexandra Horowitz, and I co-authored one of the chapters with her. As an edited volume, Horowitz -- and her way with words and dogs (she authored Inside of a Dog) -- stands behind the text, but each chapter has its own focus and tone. The book is in three parts:
Part I covers the perceptual abilities of dogs and the effect of interbreeding
Part II includes observational and experimental results from studies of social cognition – such as learning and social referencing – and physical cognition in canids
Part III summarizes the work in the field to date, reviewing various conceptual and methodological approaches, and testing anthropomorphisms with regard to dogs
The final chapter discusses the practical application of behavioral and cognitive results to promote animal welfare
Here's a look at a few chapters in detail:
Canine Olfaction: Scent, Sign, and Situation
Think you know canine olfaction? Think again! This chapter by Gadbois and Reeve discusses topics like "zoosemiotics" and "canine olfactory psychoethology." Yeah! (and yes, the words "peemail" and "Nosebook" appear in this chapter). More about Gadbois and his work here.

Dog Breeds and Their Behavior
This chapter by James Serpell and Deborah Duffy is probably of interest to many (and it is already listed on the book website as "popular content"). They note that while there are some "breed-associated temperament traits, such as, German shorthaired pointers deliberately selected for nervousness/fearfulness," it's generally more complex than that on an individual basis. More about Duffy here, and Serpell here (and Serpell edited the 1995 book, The Domestic Dog).

Measuring the Behaviour of Dogs: An Ethological Approach
What do 'dog cognition' studies actually look like? This chapter, by Claudia Fugazza and Ádam Miklósi, takes readers on a behind-the-scenes tour of research in practice with topics like single-subject studies (dogs like Chase, Rico, Betsy etc.), comparative studies, and the presence or absence of owners during cognitive tests. For a further look into dog cognition studies, check out http://www.cmdbase.org. It's a "web-based system that facilitates the exchange of videos among students of animal behavior." More about Fugazza here, and Miklósi and the Family Dog Project here.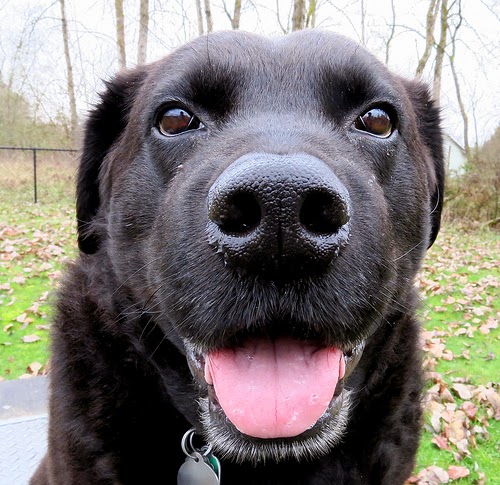 (Source)
Looking at Dogs: Moving from Anthropocentrism to Canid
Umwelt
This chapter begins, "As a companion to humans, the domestic dog is naturally interpreted from a human-centered (anthropocentric) perspective." In this chapter, Alexandra Horowitz and I cover recent research into attributions to dogs, particularly the "guilty look" and inequity aversion, as well as factors that can impact peoples' interpretation of "human" in dog. We also investigate anthropocentric and canid-centric elements of our own and others' research. Horowitz Dog Cognition Lab here.


The remaining chapters cover:
Marc Bekoff: The Significance of Ethological Studies: Playing and Peeing
Ludwig Huber, Friederike Range & Zsófia Virányi: Dog Imitation and Its Possible Origins (Clever Dog Lab)
Emanuela Prato-Previde & Sarah Marshall-Pescini: Social Looking in the Domestic Dog (website)
Alejandra Rossi, Daniel Smedema, Francisco J. Parada & Colin Allen: Visual Attention in Dogs and the Evolution of Non-Verbal Communication
Sylvain Fiset, Pierre Nadeau-Marchand & Nathaniel Hall: Cognitive Development in Gray Wolves: Development of Object Permanence and Sensorimotor Intelligence with Respect to Domestic Dogs (Canine Cognition Lab)
Monique Udell, Kathryn Lord, Erica Feuerbacher & Clive Wynne: A Dog's-Eye View of Canine Cognition (OSU Human-Animal Interaction Lab, University of Florida Canine Cognition and Behavior Lab, and Canine Science Collaboratory
Nicola Rooney and John Bradshaw: Canine Welfare Science: An Antidote to Sentiment and Myth
For those working with shelter or working dogs, the final chapter by Rooney and Bradshaw is incredibly useful. Scratch that. Anyone who cares about dogs should understand how animal welfare science can be applied to canines.

What can I say? Books about canine behavior, biology and cognition are great.

Julie

Reference
Horowitz A. (2014). Domestic Dog Cognition and Behavior The Scientific Study of Canis familiaris,

DOI: 10.1007/978-3-642-53994-7
-
2014: Canine Science For All
Wendy74ca's photostream used with permission via Crazy and LittleHi Mia! I couldn't agree with you more! It has been a long time since we chatted about what we're up to. 2014 is off to a great start, apart from the fact that it is your summer...
-
3 Ways We're Wrong About Dogs
Hi Mia! Very excited to see that the program for the Working Dog Alliance Conference is out! I love conference programs. I think I'm a visual learner because when I try and remember back to a talk, I remember that the talk abstract appeared in (Source)say,...
-
Dog-eared Books
Hi Julie, I loved hearing from Clare Browne about her research into timing of reinforcement in our first guest post last week, and it certainly stimulated lots of great comments and questions on Facebook and Google+. I know...
-
Mia & Julie At #sparcs2013: Canine Science For All!
Julie watching SPARCS in NYC (with friend & dog) Hi Mia, It's only right that we mention we've been cheating. We've spent the last two days over at #SPARCS2013, the canine science conference with the free, live streaming broadcast so...
-
Dogs In Review: May 2013
Canine Science! Everywhere! AHHH! (source) Hey Mia!Didn't May come and go in a flash? Is it possible to ask for an extension? The world of canine science was bopping last month, so here's a review of things I would have liked to cover in more...
Dogs