Dogs
Mutt Monday Wraps Ups 'Likes' Contest Today: Did You Vote?
by Carrie Boyko, CEB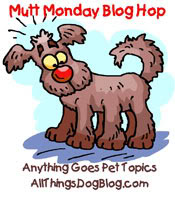 It's the last day of the contest for your favorite post at Mutt Monday. This has been a 3 week event, allowing you to select each of the posts you most enjoyed with a "Like" vote beneath its entry. The blog who linked up the most votes will receive a 30 day ad on All Things Dog Blog.
While I appreciate all the votes for my posts, I'm not in the running, so the rest of the bloggers will love to see those "Likes" go higher at theirs.
Mutt Monday is an anything goes pet blog hop. Just keep it family friendly and pet-themed and you're in. Thanks for joining in to highlight your favorite posts from the last week. Feel free to link up as many as you wish to share. Happy tails!






-
Mutt Monday Loves Dog Books
by Carrie Boyko, CEB More and more I'm seeing dog book reviews and dog book giveaways popping up in the pet blogging space. I'm reading a Chet and Bernie mystery right now and totally loving it. What's your current fave? Today's blog...
-
Mutt Monday Tallies Our Mutt Vs Pure Census
by Carrie Boyko, CEB The Mutt Monday Census is in. We started our tally back on March 27. Unofficial as it may be, it was fun, informative and lively. If you enjoy hearing stories of adoption and rescue, you'll find plenty at the post at the link. ...
-
Mutt Monday Is No April Fools!
by Carrie Boyko, CEB Last week's Mutt Monday Census was sooooo much fun! I really enjoyed everyone's comments about their dogs, both pure and mixes. Are you wondering which team ended up with the most comments? I sure was, but the game continues. ...
-
Mutt Monday Readers Name Favorite Blog Post
by Carrie Boyko, CEB (c) CRichmanFreebies Bullet Shares a GiveawayThe All Things Dog Blog readers have spoken. This time they are not the recipients of prizes--a blogger gets the win. When I asked my readers to vote for their favorite Mutt Monday posts...
-
Pet Fan Mail, Global Pet Expo And Free Advertising: Mutt Monday Goes Wild!
by Carrie Boyko, CEB A Gift from Schooner and Skipper to Tanner and OliverFan Mail for My Boys!Global Pet Expo is over now and I'm back on the job...behind, but exhilarated by the new products and relationships forged at the convention....
Dogs