Dogs
Fido's Freebie Friday Enjoying Indian Summer in Florida
by Carrie Boyko, CEB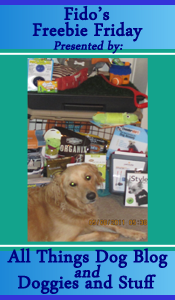 While October and November are breathtakingly gorgeous in Florida, I sometimes have to pinch myself and remember that much of the country is already shivering. Here we are still doing photo shoots with Pupsicles and fetch toys! No complaints from me after the long hot summer we had to endure.
Are you popping in to see what new goodies can be entered at blogs around the pet world? This is the place! The holidays will be kicking in soon and pet bloggers are cleaning out their coffers. I'm expecting mad closet cleaning in the next few weeks and you get the benefit. Be sure to check in here over the weekend to catch all the linkups that may have occurred through midnight on Friday.
Dear Blogger Buddies:
Thanks for joining in this shopping mall of pet giveaways, contests and freebies. Feel free to link up as many events or giveaways as you have going on currently. The more the merrier! Keep in mind that we try to make this easy. Here's our help page material, and following are our 2 rules for participation. Hope to see you again next week and often!
Fido's Freebie Friday Help Page

Facebook Contest Guidelines

FTC Rules and resources

Photography tips and ideas

Wordpress.com code for this week's event
Rules:








Individual rules of entry and guidelines for winning may apply to each listing.

All Things Dog Blog

and

Doggies and Stuff

take no responsibility for the legality of the rules governing the listings on other sites and giveaways that are posted here. We simply provide this forum as a gathering place for pet product giveaways to be offered. Please consult All Things Dog Blog's

Giveaway and Contest Rules

for more detail.
-
Fidos Freebie Friday At Global Pet Expo
by Carrie Boyko, CEB Yes; you read right. I'm trekking the floors of the Orlando Convention Center, looking for the best products and coolest new pet ideas. What I find here will largely determine what you see in my reviews, giveaways and ads throughout...
-
Fido's Freebie Friday Wants Your Giveaways, Contests & Freebies!
by Carrie Boyko, CEB What can I say; this past couple of weeks have been incredibly busy with preparations and wrap up of Super Dog Sunday™. That means I've been neglecting my freebies. Thank goodness that Doggies and Stuff has some fun things...
-
Fido's Freebie Friday Looks Forward To Super Dog Sunday ™charity Photo Contest
by Carrie Boyko, CEB It's finally here! Game Day is this weekend and we're all so excited we're busting at the seams. Readers' photos have begun to roll in and we're hopeful that bloggers will join in the fun as we celebrate...
-
Fido's Freebie Friday Ate The Thanksgiving Leftovers
by Carrie Boyko, CEB Thanksgiving is behind us now, as are the leftovers. Many of us are planning for other holidays and busily preparing gifts, celebrations and food. We hope you will find something here today to delight your fido. Feel free to enter...
-
Fido's Freebie Friday Offers Giveaways To Be Thankful For
by Carrie Boyko, CEB Fido's Freebie Friday will be opening while I'm stuffing myself silly. Sorry, but I just had to say it. No visuals though. It won't be pretty. The turkey, ham, stuffing and all the traditional yummies will all be...
Dogs